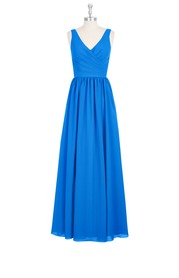 Azazie Keyla
Bridesmaid Dress
FABRIC: Chiffon
$129
product info

Style Keyla by Azazie is a floor-length A-line/princess bridesmaid dress in a concise chiffon. The brilliant dress features a v neckline and v back back style. Whether you dress it up with statement jewelry or down with flats and a cardigan, it epitomizes timeless beauty. Azazie's Keyla style comes in sizes A0-A30. Ask a question
minheekm
Reviewed On:
2016-06-25 12:48:14
I've never written a review on any of my purchases before but I was so happy with this I had to come back! I started preparing my wedding pretty late in the game, when i realized I only had 4 weeks to order/receive the bridesmaids dresses. Only to complicate the matters, I knew exactly what I was looking for (thanks to Pinterst) and I didnt want to compromise the looks for anythjng. There was only a few places that have styles I liked but not many colors. And I found out about this website thru Pinterest and boom they had exactly what I was looking for and so many options with fast delivery! Because I ordered it so late I had to rush the shipping and gave customs msmt for all 4 bridesmaids. The dresses came in 2 weeks before it's estimate and they fit amazingly perfectly! It had made the easiest part of the wedding! I love this website and I have been recommending it to all of peers ever since. Thanks so much for making already difficult wedding prep so much easier!!!!!!!!!!!
Jackie Lybrand
Reviewed On:
2016-04-21 20:29:09
Beautiful, well-made dress and absolutely loved the dusty rose color for our February 2016 wedding!
T.r.weil
Reviewed On:
2015-09-25 15:33:56
I ordered the Keyla, and received it a week and a half later. I took my measurements and ordered the size that was closest. I am 10 weeks post partum, so I made sure to shoot on the smaller side of the size chart. I am also nursing, so my boobs are huge and I wanted a dress that would be forgiving but flattering. Right now, I am about a size 8 in street clothes, and I had to order this dress in a 14; totally typical of bridal sizing to be 3 sizes larger than what you would usually wear. I'm 5'5 and 155 at the moment. The dress is beautiful and much softer and ethereal looking than in the picture; it makes it look more structured than it is. It is very long for me, so I will have to have it shortened, and if I was being nit-pickey, I would shorten the shoulders a tiny bit.
jamiesonr1
Color:
Dark Navy
Reviewed On:
2016-10-11 16:10:20
The material is very nice and I love the color. I was, however, disappointed in the fit. I had someone measure me for the custom fit because the standard scale did not align with my measurements---but I still am needing to get it altered as the chest area and straps are too large. I have a very small waist, a curvy butt and average chest size. I am just wondering, though, if maybe we measured incorrectly? Because many brides are using this company, I will note to make the chest size smaller. Thank you for reading this. Best regards, jamiesonr1
lehr.erica
Color:
Black
Reviewed On:
2016-09-26 06:51:09
I ordered this dress as a bridesmaid dress for an upcoming wedding. The overall look of the dress is okay, I would not say that it is anything special. What I am unsatisfied with is the fit of the custom dress. I measured myself about 10 times (not exaggerating) to ensure proper measurements before placing my custom order. The top of the dress is what does not fit properly. The straps stick up off my shoulders about 1.5-2" and the cups do not line up with what they are supposed to. I tried the dress on with and without a bra and the cups still don't seem to be in the right place. The length is fine. I will be getting alterations on the top and will have to submit for reimbursement for Azazie, however, my guess is alterations to the top will cost more than the allotted reimbursement amount by Azazie.
fjls.rhea
Reviewed On:
2016-08-19 15:47:13
Well constructed and beautiful. This dress is simple yet flattering and elegant. Great length, I'm 6'2" and could even wear heals.
minheekm
Reviewed On:
2016-06-25 13:12:52
I had never written a review for any of purchases before but I was so happy with my irder here I had to come back for it. I started preparing for my weddying pretty late in the game so when I realized I only had 4 weeks to order/receive the bridesmaids dresses. Only to make matters worse, I knew exactly what I was looking for (same dress in 4 pastel colors) and I wasn't going to compromise for anyting to keep the looks. There were so little places selling the smae dress in so many colors. And i found this website thru Pinterest. This website had everything I was looking for. Because of the tight timing, I had to rush my order but the dresses came 2 weeks before it's eta. I gave customs sizes for all 4 dresses. They fit amazingly perfectly! The colors were almost the same as what I envisioned only the Lemon was a little darker/brighter than I thought. I was so happy with this website I've been recommending this to all my peers ever since!
inesaffolaby
Color:
Mulberry
Reviewed On:
2016-05-22 18:31:19
very beautiful fashion , high quality dress. I am very satisfy ! I recommand every bride to buy azazie's dresses. By against the dresses are very long.
Jessica
Color:
Steel Grey
Reviewed On:
2016-01-12 13:56:31
The dress is beautiful. However, even with doing a custom order it still arrived about one size too large. I have a curvy figure so I questioned how the fit would look. Even if it did fit my size better, there is way too much material on the skirt part of the dress (I assume this is the case because the dress was made to order for a larger woman? The skirt almost has an exaggerated layering affect.) So overall, it is probably worth the price considering you can get it custom made, however, if you have bridesmaids that are a variety of body types, you may want to rethink this one.
annaclaunch
Color:
Black
Reviewed On:
2015-09-30 15:27:11
I love, love, love this dress! When I ordered it I was a little afraid of how it will fit, but I ordered a sample dress to judge the sizing. I figured custom sizing would be best. When I got the dress I was so happy: it fit like a glove! Great fabric, speedy shipping, and beautiful design. Would definitely order from here again!
youcanholdmyheart
Color:
Dark Navy
Reviewed On:
2015-09-01 11:33:00
The dress looks exactly as it appears online. I would highly suggest ordering a sample before purchasing this dress. The waistline is unnatural. The dress flairs out about an inch above the hips, which gives the appearance that you're heavier than you really are. Overall, this look is not flattering--no matter what your size.
tamooore
Color:
Peach
Reviewed On:
2015-04-28 11:17:59
This dress was great because I was able to order custom sizing and get it the correct length for my height (plus heels). However, the arm holes on this dress were very small and I had to get the dress altered to fit me correctly (as did the other bridesmaids in this wedding because all of their armholes were too small). I was bummed that I had sent measurements and still had to have the dress altered, but, the Bride contacted the company and explained to them the issue and they were great about helping out. Tip: If ordering a Custom Size - maybe go up an inch on the bust? Would still order from Azazie again for any occasion! They have wonderful Customer Service.
Jakejordan7911
Color:
Mist
Reviewed On:
2015-04-15 16:23:49
I am really happy with this dress! The fit was a lot smaller than my regular size like most bridal brands (I had to order three sizes larger than normal). The color Mist is super light almost white, the dress is very well made and flattering. I am 5'8" and will have to get it shortened by about 4 inches. Customer service was great and I recieved my dress only two weeks after ordering.