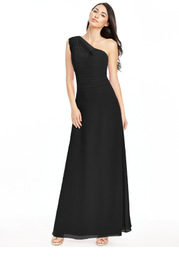 Azazie Kallie
Bridesmaid Dress
FABRIC: Chiffon and Lace
$139
product info

Fun and flirty, this elegant chiffon and lace bridesmaid dress is appropriate for any wedding from the beach to the church. Your bridal party will love this sweet floor-length A-line/princess dress with an one neckline. Fine lace covers a fitted bodice above the skirt, this perfect maids frock has a dash of romance. Ask a question
Sophia Foster-Fontus
Reviewed On:
2016-04-27 10:16:56
It was a little big. The material wasn't as nice as it looked in the pictures online. It was maid cheap. The clamp on the back broke off the 1st time 3 of us bridesmaids tried it on.
Thautecouture83
Reviewed On:
2016-04-21 15:57:31
I ordered this dress in dusty rose for my cousins wedding and it's stunning. It fits perfectly and I was very impressed with the quality and craftsmanship. The bride (my cousin) chose this dress originally because of the sophisticated detail of the sheer overlay across the sweetheart bust. It loses a little something in a light color on a light girl, but in a contrasting color it would be perfect.
Shelly Makavelli
Color:
Dusty Rose
Reviewed On:
2016-06-16 13:44:24
When I first placed the order, I was scared! Wasn't sure about my measurements, however the sizing charts and videos helped a lot when taking your own measurements. The dress fit absolutely perfect! I'm 6'0 ft tall and my main concern was the length of the dress. It was all so perfect! Truly happy customer! Will definitely purchase again from this website and recommend to friends and family.
montalohughes
Color:
Wisteria
Reviewed On:
2016-04-23 06:56:13
The dress is beautiful. It looks elegant and love the color.
garrison_meg
Color:
Dusty Rose
Reviewed On:
2016-02-09 18:48:26
I ordered this dress for a Spring wedding. It's a perfect dusty rose color. The fabric is high quality and made very well. I was in-between sizes and went for the size larger. It fit perfectly through the waist and hip area. The top under the arms was only about 1/4-1/2 inch too loose on either side. I'll have that altered and have it hemmed and it will be perfect! (For reference: I'm 5'6, weigh 155 lbs, and normally wear a size 6-8 (M) in a dress - I ordered the A12 in this dress).
Allison Wiener
Reviewed On:
2016-01-18 05:40:34
My sister ordered this as her bridesmaid dress and hopes that with a couple of alterations, it'll work. But she said that the one side was really pretty and the other side seemed to be an afterthought, and that the chest area had wires in it that stuck out in a Madonna-esque way. I haven't seen it on her, but she's got a gorgeous figure so I'm hoping the seamstress can fix it to make her feel good in the dress.
walkergrapes
Color:
Chocolate
Reviewed On:
2015-09-30 06:54:51
They did a great job with the measurements. Its a bit difficult, because I have a large rib cage, but my actual cup size is not that big. So I need the extra room to zip up, not to fill in the front. So its a bit loose in the front, which I will just get tailored. Other than that, its lovely. Just note any of these types of things in the notes section of your customization.
Emily Thompson
Color:
White
Reviewed On:
2015-09-16 16:09:10
I got the custom measurements so maybe I messed up, but I was still very disappointed in the quality of this dress. Just felt cheap. I got another dress on this website and it felt much nicer. This one just wasn't as lovely as the picture makes it look! Maybe it was just the combination of the color and off measurements...