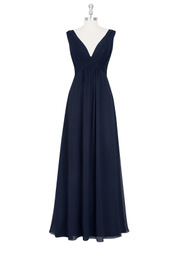 Azazie Hillary
Bridesmaid Dress
FABRIC: Chiffon
$139
product info

Fun and flirty, this comfortable chiffon bridesmaid dress is appropriate for any wedding from the beach to the church. Your bridal party will love this chic floor-length A-line/princess dress with a v neckline. Whether you dress it up with statement jewelry or down with flats and a cardigan, it epitomizes timeless beauty. Ask a question
Megan VanHouten
Reviewed On:
2016-04-12 14:10:43
The dress is beautiful! It is a little large in the breast area but a push up bra fixed that. I did custom sizing and it fits perfectly.
kyleebergin
Reviewed On:
2015-05-15 22:25:47
Ordered a sample bridesmaid dress in a style I liked from azazie to see how the quality is! (This is not the color for my bridesmaids just the sample color). I am so impressed with the dress! It fit great, although I will likely suggest my girls take advantage of their custom sizing options. The dress has three layers of fabric and was very structured and had padding in the bust too! I felt very comfortable in it without a bra. I cannot wait to order samples when my bridesmaids visit so they can all try on styles they may like.
shimmer02
Color:
Dusty Rose
Reviewed On:
2016-10-04 10:42:07
The dress is gorgeous! I was a little bit worried that is might be a little low cut, but it is very tastefully done. I ordered a size 2 and it fits pretty good. The bottom part is perfect, but the top is a little bit big. I ordered the stock size 2 and will have to get it altered so it sits flat and fits tight to my chest. Other than that, the material is beautiful and the color is stunning!
eleanordelany
Color:
Red
Reviewed On:
2016-06-26 12:45:49
The dress was very well made, a touch too long as we bought the standard size and my bridemaid is 5ft 5. But easily adjusted. Very impressed.
hannahstroh
Color:
Burgundy
Reviewed On:
2016-05-31 11:37:13
Was very excited to order this dress, but had issues with the bust. Skirt was pretty, but the fit was very off on top. The pleating made me look very wide, and if I bent forward at all, the fabric would buckle and expose most of my chest. I appreciated that it was padded, and therefore I wouldn't have needed a bra, but this dress might be troublesome for gals with any kind of chest.
GB
Reviewed On:
2016-04-05 14:25:01
Let me start by saying that this review is on the dress itself, not Azazie. The customer service is wonderful. If you have larger boobs I'd suggest ordering this dress one size larger so that it will fit correctly! I am a bit dissapointed in the "no exchanges " policy due to the fact that even if you use the size chart correctly the dress may not fit properly which means that your new dress may ship very close or after your event date unless you pay an additional 50$.... would love to be able to exchange dresses in this situation (atleast) I mean it's not fair to the customer who accurately uses the size chart only to receive a dress that doesn't fit. Very frustrating! Look out larger chest chicks :-) Thanks!
anon
Reviewed On:
2016-01-25 10:09:55
Fast shipping, the dress looks/feels like better quality than I expected!
arenasl
Color:
Mist
Reviewed On:
2016-01-13 06:04:26
I love this dress! I love the bra cups in it. I love the straps! It's a beautiful gown! I have found that these dresses fit my size. The size I wear every day is the size I ordered and it was perfect!
sarahbrycemann
Color:
Steel Grey
Reviewed On:
2015-12-03 17:00:56
The fabric is nice, the color is as expected, however, it fits a little awkwardly. I ordered the dress according to my sizes, rather than ordering a generic size, hoping it wouldn't need any alterations. But, unfortunately, it looks like I will still need to take it in and have it altered a bit. Regardless, it's pretty and I think it will work well for my sister's wedding :)
Katie Nicole
Color:
Flamingo
Reviewed On:
2015-11-16 07:03:48
This review is most definitely on the dress itself, not Azazie. I received my order extremely fast and it was good quality, but I just really dislike the dress itself. It is not flattering and incredibly heavy and uncomfortable to wear. I would not recommend this style dress to anyone would I would recommend Azazie.
Jkeller429
Color:
Blushing Pink
Reviewed On:
2015-11-10 10:01:37
This dress is gorgeous! The custom sizing was pretty good... the top was slightly larger than expected even with the custom measurements given. The bust (which has cups built in, which is awesome!) wasn't as form fitting from the top of the shoulder to under the bust as I would have liked. Overall, great dress! So excited to wear it!
jmst920
Color:
Steel Grey
Reviewed On:
2015-09-28 15:04:08
The Hillary dress was beautiful and exactly what I hoped for. The custom sizing was the smart way to go - it was a perfect fit! Also, the shipping was on time! Wore it to an Air Force graduation and I received several compliments. I will definitely be using Azazie again :)
rachel.a.pyles
Color:
White
Reviewed On:
2015-07-01 10:00:30
I bought this dress in white as my wedding dress for my casual, intimate wedding. The dress is constructed well and the custom measurements fit me better than I expected. Being short, I always assume I'll need to hem dresses, but this one fell perfectly with my 2-inch wedges. The bust was a little big on me but that's a quick tailoring fix. One small thing is that the pleats along the chest on one side were sewn down, but on the other were just folded, which I made sure to tell my tailor. This isn't visible unless you really examine the dress. The color is a nice pure white and the fabric is soft and flowing; it moves well on the body. I love the simplicity of the style mixed with the little fun details like the twisted straps and the low back. I was a little concerned about the plunging neckline but it is not as dramatic as the mannequin makes it seem. The dress comes with bra cups but I'd suggest also wearing a strapless bra. The style has a Grecian flair and is very flattering on my curvy body type. A great choice for simple, classic brides who are looking for a well-constructed dress without emptying the wallet. I'll add a photo after my big day in August :)
bretterickson5
Color:
Sky Blue
Reviewed On:
2015-04-07 05:31:18
The dress itself is beautiful and great quality. My disappointment came with the sizing. I measured myself carefully and ordered the custom size dress, however when I received it, it came way to big on me. Now I have to get it tailored which completely defeats the purpose of me even custom ordering it! If you custom order your dress, I would recommend putting in one to two centimeters smaller than what you actually are.
Teri D
Reviewed On:
2015-03-20 07:05:56
Solid! I did the sample dress thing to see if the bride likes it. The dress feels very well-made, and it's soft and comfortable on the inside. Built-in bra cups (yay!) mean you don't have to worry about that plunging back. It was a bit loose on the bust but otherwise fit very well; still, you should try the sample AND send in your measurements to get the bust tailored to size when ordering. It's easy to sit (and probably eat) in because it cinches just above the natural waist, a little lower than it looks on the dummy in the photos.