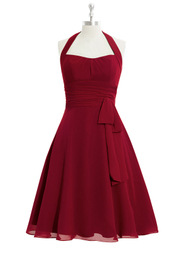 Azazie Haley
Bridesmaid Dress
FABRIC: Chiffon
$99
product info

Style Haley by Azazie is a knee-length A-line/princess bridesmaid dress in a faddish chiffon. The sweet dress features a halter neckline and back zip back style. A pleated detail at the front and back of the flowing skirt makes it perfect for the reception or a city hall wedding. Azazie's Haley style comes in sizes A0-A30. Ask a question
happy_bridesmaid
Reviewed On:
2015-01-22 15:47:27
I love this dress! I got it for my sister's wedding in July. The dress is very well-made and the color is right on what we expected. The dress is perfect for country-themed weddings, or summer weddings, as it is not super fancy, but still has a formal look. The dress is also very comfortable. Our only issue with the dress is that the straps are too long. However, since they are fastened in the back with a clasp, this will not be too difficult to fix!
armywife_80913
Reviewed On:
2016-11-28 20:33:45
This dress is rather comfortable with the exception of the straps. The straps rub the crease of the arm. Although, my dress had a snag in the material, us bridesmaids looks very elegant.
tallgurlie
Reviewed On:
2016-10-25 17:58:31
This dress fits me perfectly! I was worried because I'm so tall. I am 6'3" and I ordered size 24. I should have ordered a size 22, but the reviews scared me! The skirt is knee length!! I love it! Also the shipping was a week early!!!! Thank you Azazie!!!!
angelle.radesky
Color:
Dark Navy
Reviewed On:
2016-06-01 17:35:38
This was my very first online clothing purchase and I was NOT disappointed! This is a well constructed and executed dress!! It is sturdy for a full night of dancing without the fear of continuous readjusting the dress to deter a wardrobe malfunction. Best purchase ever.....and after this I'm going to buy another one in RED!!! It was shipped in a really nice hanging clothing zipper bag and was delivered well within the reasonable amount of time that they quote upon purchase!
ifhandisone
Color:
Royal Blue
Reviewed On:
2016-06-01 13:18:01
Fits as expected, which is always the main concern when buying online. I need to have the straps adjusted but that's about it!
Lori Williams
Color:
Marigold
Reviewed On:
2016-03-30 12:23:51
The dress is more Gold Gold than a marigold so realize its not that bright. It does look just like its picture otherwise. My dress was to big so please get your measurements as accurate as possible and do not go UP a size unless you like your clothes loose or top heavy neither is the case for me. My dress did arrive nicely packed , clean and earlier than expected so I was happy about that. for the cost I would definity recommend Azazie. but Order early
yogalicia
Color:
Lilac
Reviewed On:
2015-10-28 15:13:25
very cute and very comfortable! The strap around the neck (halter) is not tight at all , which I love because halters always make my upper back and neck hurt!
Sarena.Cruz
Color:
Dark Navy
Reviewed On:
2015-09-22 09:06:44
Well made, fit perfectly except for the halter straps but that was an easy fix. Love this dress!!
bridesmaid 4
Color:
Lilac
Reviewed On:
2015-08-17 11:23:48
I loved almost everything about this dress. It was shipped earlier than expected and I received great customer service from the associate I spoke to about shipping. The color, fit and design of the dress was perfect. I received many compliments. However, my compliant is about the zipper. The zipper was broken from the bottom up and would not stay zipped. Several times throughout the wedding night, I had to have my friends zip it down to zip it back up. I was thoroughly embarrassed when I "flashed" the rest of the guests. Minus the "wardrobe malfunction" I loved this dress.
kbishel
Color:
Burgundy
Reviewed On:
2015-07-31 11:36:45
Everything about this dress was true to size and fit perfectly! Not only will it look gorgeous in my friend's wedding, but the dress is so cute that I can wear it out to other events later without it looking like a typical bridesmaid dress! The only thing that didn't quite fit on me was the halter strap - even on the tightest of the 2 notches, it was still a bit too loose for me. But, that will be a very simple and affordable alteration to make. As with everything else I tried on from this site, you pretty much need to order dresses about 2 sizes larger than what you normally wear for street clothes (I'm not sure why the wedding dress industry does that kind of sizing, but I really am not a fan) - I wear an 8 and the 12 fit me perfectly.
crosegalvan
Color:
Wisteria
Reviewed On:
2015-03-31 09:51:04
A little bigger than the measurements it gave online, but I was able to sew it in and fix the straps. :)