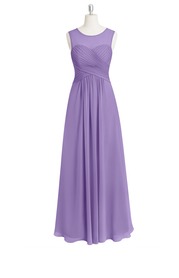 Azazie Gigi
Bridesmaid Dress
FABRIC: Chiffon
$129
product info

The brilliant floor-length bridesmaid dress by Azazie has an A-line/princess cut in a fabulous chiffon. Style Gigi features a scoop neckline, and comes in a full size range (A0-A30). A pleated detail at the front and back of the flowing skirt makes it perfect for the reception or a city hall wedding. Ask a question
Erika M
Color:
Lilac
Reviewed On:
2016-05-13 11:25:33
Loved this dress and so comfortable. All 5 bridesmaids wearing the same Gigi style. A nice added touch you don't see before ordering is that the back button is a clear crystal.
mburks1
Reviewed On:
2016-11-26 18:06:17
The dress was PERFECT!! I typically have to get bridesmaid dresses altered but the custom fit option was wonderful! They matched the measurements perfectly and I love how it fits! It is good quality and I recommend this dress to anyone!! Will definitely use this site again! Thank you so much!
morglcox
Reviewed On:
2016-09-16 04:19:03
We are still waiting on a maternity dress to come in but the rest have been exactly as we ordered and great quality so far!!! We are very excited and pleased with the way these have turned out thus far!! The customized sizes is the way to go!!
gcclauren
Color:
Dark Navy
Reviewed On:
2016-04-18 06:44:55
I couldn't believe the quality! It was so good! I had so many doubts about it. I bought mine with custom sizing but the other bridesmaids bought theirs on clearance. They received their dress very fast.
Wedding guest
Reviewed On:
2016-04-02 01:39:49
I absolutely love this dress! I actually bought it to wear to a wedding as a guest! I was a little nervous because I purchased one of the samples they are phasing out. It is in perfect condition! I am about 5'11 and this dress perfectly brushes the floor with just the tiniest amount of pooling. I am a regular t-shirt size small, bust 33ish, 27 waist and this dress fits me like it was made for me.
stephanie.callahan21
Color:
Dusty Rose
Reviewed On:
2016-03-16 18:47:23
Very satisfied with the quality and fit. I found that the sizes that are listed (waist, hip, and bust measurements) are very accurate. Unfortunately, I wish the dress came in lengths as the dress is extremely long on me. I am 5'6" and plan on wearing the dress in 1 1/2 " heels. Still, it needs to be hemmed 4". Also, because the dress is such good quality and is lined (thank GOD) the hemming will be a significant cost (most alterations will charge for each layer of fabric). Overall extremely happy with the purchase!!! However, I do want to warn the less-than-tall ladies about this additional length and resultant additional cost.