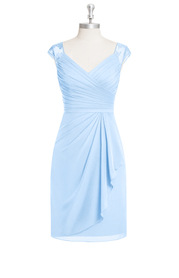 Azazie Fawne
Bridesmaid Dress
FABRIC: Chiffon and Lace
$139
product info

Fun and flirty, this gorgeous chiffon and lace bridesmaid dress is appropriate for any wedding from the beach to the church. Your bridal party will love this sweet knee-length sheath/column dress with a v neckline. A pleated detail at the front and back of the flowing skirt makes it perfect for the reception or a city hall wedding. Ask a question
kaverywedding
Color:
Ivory
Reviewed On:
2016-11-10 06:25:38
Really nice dress, great fabric and color. 4 stars because I feel like it would only flatter a very busty woman and/or a woman with relatively narrow shoulders. But it's still well-made, comfortable, and pretty - for the right person.
themoonlitwriter
Reviewed On:
2016-10-15 13:17:55
I was absolutely blown away by the superior craftsmanship and the exceptional quality of this dress. It's such a unique color, and the design is flattering! What made it even sweeter was the deep discount at which I was able to purchase this dress! I found AZAZIE's website on a fashion blog for Goddess Sizes, and was extremely happy to see that the size ranges are so forgiving! I would highly recommend that anyone on a budget shop these samples because they are in pristine condition, and are shipped in a very neat and respectful way. I will definitely be back to purchase more gowns whether they be samples or full price. I couldn't be happier with my experience here at AZAZIE!
Antonia Rodriguez
Reviewed On:
2016-05-09 17:16:27
Dress quality is great! The only thing is that the dress sizes range alot. I usually wear a size 12 but had to order 2 dress sizes up. I had origanlly ordered a dress in 12 but it was not even close to closing from the chest area. So i ordered a 2nd dress in size 16 and it fit well in the upper chest and torso area but the lower part is too big. The dress is suppose to be fitted on the bottom half because of the style and it looks like if it was flare and longer on the back. I would suggest making the dress order to your measurements because it may fit well in certain areas and others to big or small if you order the standard size.
tawrp
Color:
Royal Blue
Reviewed On:
2016-05-05 20:13:35
This fits great and I would definitely recommend Azazie to anyone!
MJ
Color:
Dark Navy
Reviewed On:
2016-03-29 13:11:36
This dress fits me perfectly. I used the size chart to help me determine which size i needed and I won't have to alter it at all. I am very happy with my purchase! Beautiful dress.
taylor
Color:
Coral
Reviewed On:
2015-10-30 12:33:58
Dress fit exactly as measured! Had it back within 2 weeks...AMAZING!!!! Would highly recommend.