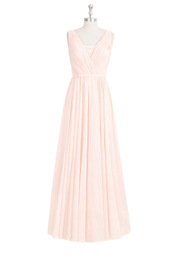 Azazie Ellen
Bridesmaid Dress
FABRIC: Chiffon and Lace
$139
product info

Fun and flirty, this comfortable chiffon and lace bridesmaid dress is appropriate for any wedding from the beach to the church. Your bridal party will love this chic floor-length A-line/princess dress with a v neckline. A pleated detail at the front and back of the flowing skirt makes it perfect for the reception or a city hall wedding. Ask a question
Angela
Reviewed On:
2016-01-01 15:44:42
I will never be able to pick between this dress and the other sample I ordered from this site for my cousin's wedding! Both are AMAZING quality. I wish I found this site when I was planning my wedding!!!!
KayRogerz
Reviewed On:
2015-10-20 02:03:17
I loved trying on this dress, Ellen, in Ink Blue! Helped me decide to put my bridesmaids in Azazie's Peacock color. Great quality and great fit. Perfect name for strong women and a beautiful dress.
Tanya Roberts
Reviewed On:
2015-07-03 06:12:00
Thought we would share this with you. The pearl pink color was perfect!
krystalmkw
Color:
Dark Navy
Reviewed On:
2016-08-14 21:46:42
I loved this dress! I did the custom sizing and every thing fit as it should. Though - if you are wearing flats, be sure to mention that in your order; mine was a little long because heels were assumed. High quality fabric, great lining, and as a big girl, it held me in in all the right places. Beautiful navy blue - midnight sky blue.
jessieleeconner
Color:
Dusty Rose
Reviewed On:
2016-05-27 19:33:57
This dress is absolutely gorgeous! I love it so much, and I love that it's tailored to me for no extra cost! Perfect! The only reason why it's 4 stars and not 5 is because they automatically add 2 extra inches for the heels. I'm not wearing heels, and I specified that when I ordered it, and I emailed the team to specify, they replied and said that it'll be no problem, and they won't put the extra 2 inches on. When the dress arrived, it definitely had the extra inches. I'm disappointed, because now I have to use my time to find a tailor. Azazie said that they would pay for the tailoring up to $50 which is wonderful! But I'm a bit nervous because the dress has so much fabric, it'll most likely be more than $50. Other than that, the quality is amazing, the color is gorgeous, and I feel like a princess in it!
tiffaniefarsad
Color:
Blushing Pink
Reviewed On:
2016-04-29 00:09:16
I am overall satisfied with my purchase. The quality is really great for the price and the craftsmanship is good. I ordered a custom size and had a few issues with it. The main issue I had was with the shoulders, one side was more loose than the other. The more minor issue was it was way too long for wearing flats. Tip: When ordering custom, say you are 2 inches shorter than you are if you want to wear flats with the dress. Having to pay for alterations kind of stinks when ordering a custom gown. Another thing I didn't like was the color "blushing pink". Seems more suitable for a child at about 7 years of age, rather than an adult women and may not be most flattering on all skin colors. Pearl pink seems like it would suit more skin tones. Overall though, I would definitely recommend Azazie to future brides/bridesmaid for a great option for bridesmaid dresses!
cyrfamily
Color:
Ink Blue
Reviewed On:
2016-04-27 10:49:52
Dress is very pretty. Just like the picture. I did do custom size for free, hoping to save money on alterations. However, the top was too big and the bottom needs to be taken up several inches. custom fit was way off. There is also a part on the back zipper that sticks a lot. You really have to pull it. Will probably have to get that looked at, too. Very nice dress. Only problem was custom size fit was way off and zipper sticks.
michellerosepage
Color:
Grape
Reviewed On:
2016-02-05 05:37:42
I am so happy about my dress, it is beautiful and very well made. I ordered it in a custom size and it fits perfectly, I have never had a dress fit so well. I will certainly order from this site again and suggest it to anyone looking for a high quality and beautiful dress.
eharry430
Color:
Mist
Reviewed On:
2015-09-27 18:51:56
LOVE this bridesmaid dress!!! I got it in the Mist color, perfect for if you are wanting a super light blue. The back goes into a V a little deeper than I thought so my bridesmaids will need to find a way to wear their bras.... which is frustrating because some of my bridesmaids were wanting to wear a standard bra. Overall, I am very happy this dress!
cdelarosadtr
Color:
Dusty Rose
Reviewed On:
2015-07-24 21:18:16
Much nicer than anticipated- high quality, well-constructed. Ordered a custom size and it fit perfectly. Generous with the fabric- the bride was delighted with my choice! Would order from here again if I ever have the need...
gbabadilla4
Color:
Pearl Pink
Reviewed On:
2015-05-19 04:17:38
a bit loose from chest to shoulder need to have little alterations the one size 32-24-31
amarieyoder
Color:
Champagne
Reviewed On:
2015-04-29 05:27:48
I normally wear a 6, so the 6 fit just fine in the dress. I will not have to get it altered in any way! One thing that bothers me that I cannot change is that the arm holes are a little high up. It is a bit uncomfortable. The bottom of the arm hole rubs on my arm pit and I am hoping that I do not sweat too much at this wedding. I am not sure why it is made this way.