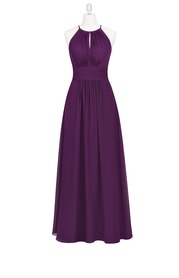 Azazie Bonnie
Bridesmaid Dress
FABRIC: Chiffon
$119
product info

Fun and flirty, this lux chiffon bridesmaid dress is appropriate for any wedding from the beach to the church. Your bridal party will love this attractive floor-length A-line/princess dress with a halter neckline. A pleated detail at the front and back of the flowing skirt makes it perfect for the reception or a city hall wedding. Ask a question
beroo22
Color:
Candy Pink
Reviewed On:
2016-12-04 09:45:03
Dress fits perfectly. Great quality and lovely color quality. 100% satisfied.
Hannah Otterson
Reviewed On:
2016-11-08 19:00:36
The dress was true to size (I got an A4) and the perfect color! The skirt is incredibly long but that's what I expected from the previous reviews, plus I'm short so nothing is ever the right length for me. If that's the only altering that needs to be done on a standard size, I'm more than pleased!
Lauren François
Reviewed On:
2016-11-08 18:09:00
Fit exactly to measurements and was great quality. Color was exactly as pictured. Only thing was that it was long on me, but I'm short as it is so I don't blame the company.
KayeDea Freeland
Color:
Royal Blue
Reviewed On:
2016-11-04 20:28:48
The only problem I had with the dress is the length because I will be wearing flats, but for heels it is perfect!
doerning.3
Reviewed On:
2016-10-22 06:18:43
I LOVE this style. The dress was so comfortable but also flattering in all the right places. I found the halter neck line on some of the other styles very tight and scratchy, but this was soft and well-fitted. Love the keyhole details. My only critique is that I wish the back was more interesting. I would love the sheer straps of the "Ginger" style on this dress - then it would be perfect!
sbcoupon
Color:
Blushing Pink
Reviewed On:
2016-10-05 08:21:44
The dress was very pretty and fit wonderfully. I am pleasantly surprised with the ruching.
Marcela, Minneapolis
Reviewed On:
2016-09-30 19:21:27
I ordered this dress for my sister, as she will be my Maid of Honor at our November wedding. We used custom fit. Dress came 2 weeks early in a beautiful garment carry bag. It super exceeded my expectations. The size is exactly as we ordered. If people here have issue with sizing, maybe their tape measure needs an update. We are so very excited, as this was our first custom purchase. The construction is beautiful and the fabric is great. On the pictures it's me and my bust dimensions are smaller, just FYI. It will be perfect on the one that it is meant for. I might need to order a dress myself, just because .....