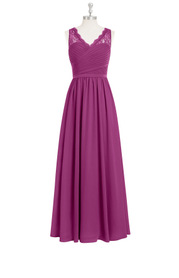 Azazie Beverly
Bridesmaid Dress
FABRIC: Chiffon and Lace
$149
product info

Style Beverly by Azazie is a floor-length A-line/princess bridesmaid dress in a simple chiffon and lace. The fantastic dress features a v neckline and side zip back style. A pleated detail at the front and back of the flowing skirt makes it perfect for the reception or a city hall wedding. Azazie's Beverly style comes in sizes A0-A30. Ask a question
SOHEILA.MOREL
Reviewed On:
2016-11-17 11:07:21
beautiful dress nicely made definitely recommend true to size
amp2mlp
Reviewed On:
2016-10-17 15:45:19
Was looking for a junior bridesmaid dress, loved the color, hated the fit. Looked matronly rather than modest. Waist was awkward, not high not natural but somewhere in between
kBridesmaid
Reviewed On:
2016-10-15 09:59:45
The dress is beautiful! Unfortunately my measurements did not match any of the sizes- all my measurements were perfect except for my bust, so I figured it was better to go up to the most accommodating size (A16). By doing that, my dress was 6 inches too long so I'm having it altered. I rated this 4/5 because I was going to use the custom sizing, however it would not have arrived in time for the wedding- and that was ordering the dress a month and a half ahead of time. Bottom line: the dress is beautiful and order your dress with custom sizing at least 3 months out to be safe.
ravin.neal
Color:
Dark Green
Reviewed On:
2016-06-16 10:21:29
I am in love with this dress! It is very true to the size chart. I usually wear a 2 in dresses. I was almost spot on measurements-wise to the 4, which is what I ordered. It fits almost perfect, just needs to be hemmed. The top is very modest and the back is beautiful. It's a good quality fabric that has a nice weight to it, so it lays really beautifully.
jehammond
Reviewed On:
2016-06-10 14:58:43
-Material was great, no snags or tears. - very long - The way the dress the fit wasn't the most form fitting
henner211
Reviewed On:
2016-06-02 21:53:43
This dress was purchased at sale price to check the quality of construction of the Azazie dress product and to verify the color for my daughter's bridesmaid dresses. (We are trying for eggplant and not a purple tone.) The color is beautiful - a very true match with the online picture. Being fairly experienced with sewing and garment construction, I was very pleased with the quality. This is a very fine product and the price is very reasonable. Based on the prices of other wedding attire brands, I am very impressed. What a pleasant surprise to open the box and be wowed!! I will recommend Azazie many times over. Thank you for your "over-promise" of satisfaction.
12.ladygrey.24
Color:
Ink Blue
Reviewed On:
2016-05-16 17:36:42
I ordered this dress for a bridesmaid and it fit perfect! All of the bridesmaids dresses and mother of the groom and bride fit to a T! I would highly recommend Azazie dresses for anyone looking for Quality made dresses for a wedding or any other occasion.
c.mishelldickenson
Reviewed On:
2016-04-30 09:48:21
Love this dress! My matron and maid of honor are wearing it and it looks fabulous on them! Only thing is that it is a bit darker than I thought it would be. The lace on the top is a perfect color, but the chiffon is a shade darker. Not a deal breaker, because it's still beautiful! Just to let you know.
julianafernandez12
Reviewed On:
2016-04-02 12:16:10
This dress fits perfectly and looks like its made of great quality fabric. I was contemplating doing the custom size dress but decided on just getting a size 4 instead. I am so glad that I did because the fit it great. I would highly recommend Azazie to anyone looking for dresses. The only minor issue (it's not even really an issue) is that the zipper is a little tough to get up. Other than that the dress is great!
Mara Hagan
Reviewed On:
2016-01-26 06:52:02
The dress is beautiful and the fit is excellent! I can't wait to wear to the wedding. The only issue I have with the dress is the zipper. I had a hard time unzipping it to get it on and take it off.
e99bert
Color:
Dark Green
Reviewed On:
2016-01-22 15:56:37
Fits perfectly by doing home measurements, except the height
Britnidharris
Reviewed On:
2016-01-04 12:38:40
The dresses arrived in the amount of time that was said they would. The quality of the dresses are amazing. Fits true to size. The color of the swatch I ordered was exactly the same color as the actual dress. Ordering dresses online was a little nerve racking, but I am so glad I chose to order these. They are perfect!