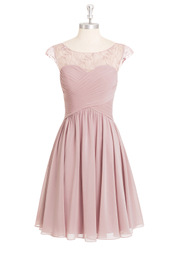 Azazie Betty
Bridesmaid Dress
FABRIC: Chiffon and Lace
$139
product info

Fun and flirty, this fabulous chiffon and lace bridesmaid dress is appropriate for any wedding from the beach to the church. Your bridal party will love this graceful knee-length A-line/princess dress with a boat neckline. Whether you dress it up with statement jewelry or down with flats and a cardigan, it epitomizes timeless beauty. Ask a question
stagil3
Color:
Grape
Reviewed On:
2016-10-22 12:28:05
Beautiful fabric and construction. Lace was more shear than it appeared in the online picture and the back was also lower than we expected.
amp2mlp
Reviewed On:
2016-10-17 15:47:44
Perfect fit, classic look for junior bridesmaid without being too young or too old. True Purple, exactly what I was looking for to fit multiple skin tones.
bfrabizio
Reviewed On:
2016-10-05 11:43:34
This dress was not as flattering in person and it was very matronly. The chest area was just awkward. Color and length were great though.
EAH
Color:
Grape
Reviewed On:
2016-09-26 03:22:41
I really wanted to love this dress. It looks so beautiful in the picture. I decided to get a custom order, because it costs no extra to do so. Shame on me for not reading the return policy because a custom order cannot be returned for any reason. Anyways, I received my dress and I am hugely disappointed. The bodice fits okay, it might be a little too big but I can work with that. My biggest complaint is that the skirt part is HUGE. There is so much material. It could easily fit a size 20 or a 9 month pregnant woman. I am usually about a size 6 and because of the over abundance of fabric in the skirt, I felt 10 times larger than I actually am. I was just going to keep it and wear it since I can't return it, but my husband told me I can't go to my sister's wedding as the Maid of Honor feeing horrible about my dress. So, we just decided to chalk it up to a loss, and I purchased a dress from another place. Buyer beware: do not order a custom dress! You're better off ordering off the rack and taking it to a tailor to be fitted. What if you don't like how the dress looks on you? Too bad! You can't return it!
jessyebrick
Color:
Sky Blue
Reviewed On:
2016-05-25 06:11:19
This dress is really pretty but I ended up returning it since it was too small. I typically wear a size 2 in dresses and the A2 zipped but was pretty tight in the chest. The lace at top also seemed like it would be a bit restrictive for dancing so I chose a different dress.
softballmom2434
Color:
Pool
Reviewed On:
2016-04-19 12:19:34
The dress is beautiful and fits my daughter to a tee. The color is just what I imagined and she loves the way it flows. It is a bit long on her, but nothing that we can't live with. It is wonderful!!
brandnewrain
Color:
Sky Blue
Reviewed On:
2016-04-14 12:29:59
The fit is PERFECT!!! The arms felt a tiny bit tight but its not enough to bother me. I like the kind of built in bra. Being custom ordered, i really was worried but i couldn't be more stoked to be wearing this for my best friends wedding and probably on many other occasions.
Lauren Ashley Thomas
Color:
Jade
Reviewed On:
2016-04-13 13:08:21
Dress is wonderful quality, my only complaint it the bodice hits me in an awkward location and makes my hips appear larger than they are. Also the bust line comes up quite high. Overall great dress and will wear it for more than just the wedding I am in!
edavy929600
Reviewed On:
2016-04-05 08:07:13
I'm an athletic build (5' 7", 138lb, size 4/6) so I expected this dress to fit tight in the shoulders... and oh my it does. I ordered a 6 just for that reason. The waist starts awkwardly high in the front and the fabric is very lively so in profile, even if you're fit with a flat tummy, you'll look pregnant. The bust is also very high so your chest will look like it's several inches higher than it should be. To top it all off, since there's NO stretch in the lace up top, you can't move your arms... at all. But you won't want to since it's the scratchiest lace known to man. Azazie is a great company and I've ordered dresses from them before, but this one was a dud. Given the choice, I wouldn't have picked this dress.
Bridesmaid #3
Color:
Pool
Reviewed On:
2016-04-01 13:32:45
My only complaint is that the sheer fabric at the top is really itchy. Better suited for top heavy people, not bottom heavy, so keep that in mind.
Krista.m.taylor1
Reviewed On:
2016-03-24 14:01:56
The dress material is good quality and the color was what I expected, but the fit leaves something to be desired. You can't really tell from the photos, but the bust of the dress is really high if you're small-chested. It covers the ENTIRE bust and a little more. I also may see if I can take out some of the gathered skirt. I have a short torso, so the skirt starts a little awkwardly high on me. Of course, it was $35, so spending a little extra on tailoring won't hurt too much. If I can make the adjustments, then I have an inexpensive but nice rehearsal dinner and spring/summer dress.
sparky99
Reviewed On:
2016-02-29 12:14:52
I am so happy with this purchase. I was amazed at how fast the dress was shipped!! The quality of the material and workmanship is amazing.
ebauer16
Color:
Ink Blue
Reviewed On:
2015-10-05 13:08:35
We ordered the dress in a custom size. The fit was great on all and the dress is adorable! We weren't able to order the sample because it wasn't available yet, so we took a chance and I am so glad we did. The only problem we had was the zipper in one of the dresses was broken. I called the company and they were great to work with! I would definitely order from them again for any dress needs.
cmohlman
Reviewed On:
2015-09-27 15:16:29
I ordered this dress in royal blue for my three bridesmaids. The dresses are pretty and well-made. The bodices have built-in cups and some boning. I ordered them with custom sizing. Of the three dresses, two were too small. The zippers barely closed and the shoulder seams needed to be let out. I was a little disappointed they ran small because I'd expect the opposite to make them easier to alter. Overall, the dresses are lovely and seem to be a good value.