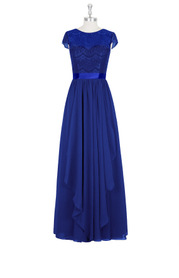 Azazie Beatrice
Bridesmaid Dress
FABRIC: Chiffon, Lace and Charmeuse
$159
product info

Style Beatrice by Azazie is a floor-length A-line/princess bridesmaid dress in a faddish chiffon, lace and charmeuse. The chic dress features a scoop neckline and illusion back style. The belt on this dress will add a dash of charm and glamour to your look. Azazie's Beatrice style comes in sizes A0-A30. Ask a question
Tanya
Reviewed On:
2015-12-31 14:50:29
Such a beautiful dress in a beautiful color! It was perfect for my late September wedding and the fit was flattering for each of my bridesmaids.
Aneika Sterling
Color:
Blushing Pink
Reviewed On:
2015-02-28 07:25:57
It fits amazing and everybody love the dress and I did too......
jabradshaw09
Reviewed On:
2016-06-14 13:22:40
Great quality and quickly delivered. Came in a nice dress box.
Nataliekedrow
Reviewed On:
2016-05-10 18:45:52
Loved the dress! It was so flattering the way it fit! Very happy with it!:)
bakingholly
Reviewed On:
2016-04-20 18:14:09
I absolutely LOVE this dress. It fits me so well and it makes me feel pretty! It was worth the money - every cent!Array
Jessica Biretta
Color:
Blushing Pink
Reviewed On:
2015-11-25 18:56:01
This dress is stunning in person. I was very excited to see and feel the quality fabric once my bridesmaid dress arrived. The color (blushing pink) is absolutely gorgeous, as well. However, the sizing (I ordered a general size so I could return it if the sizing was off) was a bit small. I have a large bust, and the dress wouldn't zip the last few of inches. I ordered the dress according to the size chart, but this dress seems to run a bit small. That being said, Azazie's customer service has handled my return with class and extreme professionalism thus far. I'll be ordering one size up once I receive my refund. As far as other fitting concerns go, I have rather large upper arms and was concerned that the lace material would be unforgiving, since some lace materials are rigid and can dig into one's arms. However, I was happily surprised. The arm fit was perfect. I can't wait to receive the next size!
redchik987
Color:
Steel Grey
Reviewed On:
2015-10-15 08:57:08
First of all, doing the custom sizing is the way to go! I had to return the first dress I purchased because it was too small (in my regular size). The custom-made dress fit great! The dress was comfortable and beautiful. I seriously got compliments on it all night and even had someone tell me that I was the best dressed of the bridesmaids (we all got to pick our own dresses). Two things--The lace sleeves are capped, so they're short and mostly not in the way, but if you're reaching up too high they can cut into you. They have no elastic or give. Second, the front part that is layered was actually a little longer than the rest of the dress, so I kept stepping on it. I don't know if this was a construction error or how the dress actually is. Just thought I'd share! Great website and awesome find!
kortkort1221
Reviewed On:
2015-09-28 19:32:08
I got this dress custom sized for all 4 of my bridesmaids and they all fit perfect! I was hesitant at first to order offline but I took a chance and am VERY PLEASED and I would recommend Azazie to anyone. I got this dress in burgundy and the theme of my wedding has cranberry so it is more of that shade. Again, very pleased. The shipping was very fast as well.
Tanya
Reviewed On:
2015-08-24 21:28:54
I LOVE, LOVE, LOVE this dress! It's modest and classy which was exactly what I was looking for for my bridesmaids! The lace is extremely soft and the chiffon is flowy. Very well made with several layers so you don't have to wear a slip
Annafrank
Reviewed On:
2015-01-31 09:30:27
Received the dress and I love it!! The only cons is the sleeves kind of cut the arms and it runs one size down. Other than that love it! Worth every penny.