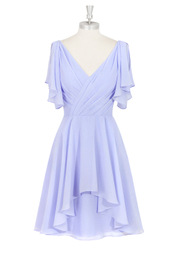 Azazie Ayana
Bridesmaid Dress
FABRIC: Chiffon
$119
product info

Style Ayana by Azazie is a knee-length A-line/princess bridesmaid dress in a fabulous chiffon. The fantastic dress features a v neckline and v back back style. A pleated detail at the front and back of the flowing skirt makes it perfect for the reception or a city hall wedding. Azazie's Ayana style comes in sizes A0-A30. Ask a question
Kvoigt88
Color:
Ivory
Reviewed On:
2016-11-28 07:34:30
Since my husband and I eloped last October, I ordered this dress to wear for the reception we held on our one year anniversary! Although it was listed as a bridesmaid dress, it was just the style I was looking for - light and comfortable material with relaxed sheer sleeves and knee length. I ordered it in the ivory which was absolutely perfect and the A10 size fit my 6ft tall body just right. I added a brown ribbon to the waist to give it just a pop of color. We had our reception at a roller rink so when my husband and I did our skate dance together, I felt so graceful and elegant as my dress was flowing while we glided. It was very comfortable and easy to skate in and I never worried that it was too short - I felt like a classy roller skating goddess and the amount of compliments I received were overwhelming! No complaints at all, I loved this dress very much and I'm incredibly glad I stumbled across it to wear for our special celebration! :)
kalman1111
Reviewed On:
2015-05-26 10:12:00
Here's my sample Ayana from azazie . It's a little large but I loved that I could get the sample and try it to decide if it was a Good option for my body type. Also, look at my cute puppy who just had to be in the photos!
hannahjwindham
Reviewed On:
2016-04-28 09:15:40
So pleased with this dress!! Only problem is that the shoulder straps falls down because the V in the back is so low.
jaime
Reviewed On:
2015-08-04 06:09:07
so I looked up a bunch of reviews from this website and was impressed so I ordered two samples, Ayana, and Mikaela. Both were nice material, I was disappointed I couldn't get dress in the color I like (sage) but this dress in particular, looks very grandma like on my bridesmaids. It looked ok on me (the bride) but I just had a baby. I got it because there is some older women in my bridal party (40) and they wanted something with sleeves. Even on my 40 year old mother it made her look twice her age. The front comes down with a second layer under the higher part which doesn't make sense, it needs to be raised in my opinion, which is a simple fix with a seamstress. I really love the sample program and so glad I found the website!
Kovarkayla24
Reviewed On:
2015-07-31 16:01:09
I love the way the stress looks online it will match my wedding dress perfectly and I am doing a Hawaiian themed wedding I know it's not Hawaiian but I'm kind of doing like a beach theme Hawaiian theme wedding with nice flowers then I love this dress and thank you for having it I'm going to order it today for all of my bridesmaids and junior bridesmaids