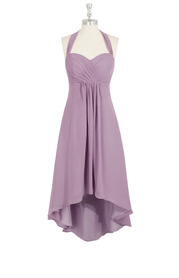 Azazie Annabel
Bridesmaid Dress
FABRIC: Chiffon
$129
product info

The charming asymmetrical bridesmaid dress by Azazie has an empire cut in a comfortable chiffon. Style Annabel features a halter neckline, and comes in a full size range (A0-A30). A pleated detail at the front and back of the flowing skirt makes it perfect for the reception or a city hall wedding. Ask a question
Anna Robbins
Reviewed On:
2015-06-02 12:12:00
After months of planning, purchasing, and going insane,I still needed dresses for my maid of honor and bridesmaids. I searched the local stores, I scoured the internet, I even looked at second hand shops and online yard sale sites. I had less than 6 weeks to find an answer, or else. One night, sulking in my despair of not wanting to become a "bridezilla" I was looking at cute puppy pictures on Pinterest, when in the lower left corner of my screen, I seen a glimmer of hope. I immediately clicked on the website, AZAZIE. Would I dare take a chance on a NEW company? Would I only be disappointed to find that they couldn't deliver their claims? It became harder and harder to hear my inner worries as my hand gracefully moved the mouse over the gorgeous dress styles, I could faintly hear Beethoven playing in my mind. YES! This is exactly what I was looking for. They had the EXACT colors and styles that I had longed to see my girls in. Beautiful. Was there hope for my wedding?.................... OF COURSE! Because you guys are AWESOME!!!! The dresses were ordered and at my door within 3 weeks. There were only a few minor alterations still needed (I didn't have my girls to measure), and the colors were the most amazing, vivid colors. You guys saved my butt! That's all there is to it. I will never be able to say enough Good about your company. It's not the greatest picture of them, but I think you'll be able to see the beauty here. I know I do. Thank you AZAZIE!
ashleylovescoffee
Color:
Dark Navy
Reviewed On:
2016-06-14 08:51:39
I had this bridesmaid dress custom made to a maternity dress as I was 8 months pregnant during the wedding. The dress and measurements would have been perfect, but Azazie refused to take my under bust measurement. Without this measurement and adustment, the dress kinda looked like a tent on me when I first tried it on. The bodice is very intricate in its stitching so we did a simple tuck under the arms to try to show I do still have a body even though I'm pregnant. I really wish Azazie would have taken that measurement, because then the dress would have fit perfectly! Otherwise it was beautiful and worked great.
esme384
Reviewed On:
2016-04-19 11:39:45
Good quality dress , love it for my Bridesmaid 2 dresses fit perfect! If you order get 1 size up. These dresses run in small. Unfortunately 2 of my Bridesmaid will need to get their dresses altered due to loosing weight too big on the sides. But overall good quality and dresses and arrived sooner than expected. Thumbs up for Good packaging! Thank you guys!
PD
Reviewed On:
2016-01-23 06:03:44
Annabel Dress: Well-made, despite a sagging chiffon on one side of the bust (probably due to the cross-over nature of the design). The skirt flows and twirls well. Add a sash for a more formal look (and the sash helps hide the sag, too). Also versatile--as with many Azazie dresses, you can wear this to less formal events, as well as black tie. The a-line will look on virtually any figure. I'd like to see this style with a standard at-the-knee hem. I'll probably have a tailor hem it, so it's even more versatile. I purchased this dress in Flamingo. It's a gorgeous color! Not hot pink, not pale pink. Very summery.
pdonovan
Color:
Watermelon
Reviewed On:
2015-11-09 13:27:39
I loved my dress- It was just too small and I had to rerun it! Was not enough time to allow me to reorder a large size.
Kim Moffat
Reviewed On:
2015-09-02 10:24:24
It's smaller than the sizing would lead you to believe. I had to buy 2 sizes bigger than my normal dress, because it's small in the chest.
Anna Robbins
Reviewed On:
2015-06-01 18:26:17
The dress was almost the perfect fit, but I didn't have the girls here to do their measurements before I had to order. Nothing a couple stitches and pins couldn't fix though. The color was amazing! Everything was great! I will highly, highly recommend your wonderful site to EVERYONE!
Anna Robbins
Reviewed On:
2015-06-01 18:22:21
The dress was perfect! It was made to her measurements, and fit like a charm. The color was amazing! Everything was great! I will highly, highly recommend your wonderful site to EVERYONE!
blmduncan
Color:
Spa
Reviewed On:
2015-05-08 16:47:59
This dress is definitely average. The good: It fits brilliantly and I am very pleased with the custom size not costing any more than a standard size. I am 5'0" so the standard length is always WAY too long on me. The bad: The material wasn't what I expected it to be.. It felt a little cheap. It came wrinkled which I was also disappointed with.
sdraper5
Color:
Peach
Reviewed On:
2015-05-08 08:15:13
I ordered this for my daughter for a bridesmaid dress for her sister's wedding. We chose to give exact measurements as the size chart didn't really give us an accurate dress size for her measurements. The waist and chest were made much too big. We are going to have to pay to have it altered. I wouldn't buy this way again. I would go to a place where they can be tried on. We measured exactly how they explained to on their site. It's at least 3 inches too big.