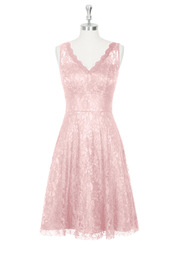 Azazie Alma
Bridesmaid Dress
FABRIC: Lace
$139
product info

Fun and flirty, this fabulous lace bridesmaid dress is appropriate for any wedding from the beach to the church. Your bridal party will love this attractive knee-length A-line/princess dress with a v neckline. Fine lace covers a fitted bodice above the skirt, this perfect maids frock has a dash of romance. Ask a question
Amanda
Reviewed On:
2016-08-23 12:12:08
My ladies wore this dress for my wedding at the end of April and while the sample we originally ordered looked great, it just didn't translate when we got them in everyone's sizes. We had a heck of time getting this dress fitted for some of the girls and the seamstress found it odd that the hemline wasn't finished on some but finished on others. All in all it was a great color and my girls looked great.
Kelsey Beer
Color:
Watermelon
Reviewed On:
2016-05-20 11:31:32
So the dress itself was cute, it looked nice on. I am 5'6' about 160. The dress was good quality and came in a nice zip up bag. But the issue I had was that I have thicker arms and the lace material, around the arms, did not give much. So it was actually pretty tight feeling and the material was scratchy. So I know after awhile of wearing the dress, I would have definitely had some red marks around my arm, from rubbing. I got a size 10 and honestly everything else fit nicely, but the material was just not quite comfortable enough, so I returned it. Also, forewarning I do not have big boobs and the dress is pre-padded. Although this is somewhat nice and still looks good in a photo, the actual padding was quite a bit higher than my boobs, even with a strapless bra on. So it's not quite built right. If you are slim and have little arms and don't mind having padding that is too big for your actual boobs, then go for this dress. Haha I mean, it looks nice. But the material is not comfortable. So I don't think I'd recommend this dress to many.
heather.m.morice
Color:
Champagne
Reviewed On:
2016-03-11 13:05:12
I ordered this dress to wear for my engagement pictures and it turned out great! The dress fit well and I am glad I got a custom size. I wanted to make sure that I could trust this company before having all of my bridesmaids order their dresses from here and I am so glad that I did. I am much less nervous about having them order dresses from Azazie and I now have a beautiful dress of my own.
Courtney Young
Reviewed On:
2016-01-12 17:41:40
My girls looked amazing in their Azazie Alma dresses in dark navy! Great quality dresses that fit everyone perfectly.
Christina Rengo
Reviewed On:
2015-11-04 04:12:00
Thank you to Azazie for the wonderful bridesmaid dresses! We got "Alma" in Burgundy, Grape and Tangerine and added a fun belt to them for some extra bling. The matching ties and pocket squares for the groomsman were perfect! Truly wonderful for our fall wedding!
Jodie
Reviewed On:
2016-09-19 09:44:31
I ordered this as one of a few sample dresses and just didn't love how it fit. I think the biggest issue was with the cup padding - it was very unnatural looking (more pointy than rounded). It also felt a little frumpy since it was also a little long on me (I'm 5'1"). If it was altered to the right length, that might not have been an issue. The color was really pretty though (the sample I got was a light blue), as was the lace. Overall the fit was true-to-size based on their size guide, which is information I'm very happy to pass on to my bridesmaids!
EPALMR
Color:
Dark Navy
Reviewed On:
2016-04-05 07:30:13
The dress fit like a glove! It is super cute and cannot wait to wear it for my friends wedding! I am having my bridesmaids also buy from Azazie and would buy from them again myself! This is also a dress you could dress down with a jean jacket and boots! So for those stressing over the price like I was, it actually is something you could wear again!
livingwater4all
Reviewed On:
2016-03-08 10:10:43
This dress was for sample and sizing purposes. It did give a good idea as to fit. It was returned (as it was for sample purposes only), dresses we purchased were not consistent with sizing.
richashleyc
Color:
Steel Grey
Reviewed On:
2015-08-12 06:09:39
This dress is flattering for all body shapes. After having 2 children I am overly conscious about my tummy area. This hides it and gives the wearer a very flattering shape without shape wear. Not only is it flattering, it is extremely comfortable and I see myself wearing it after the wedding is done as a special occasion dress. It was priced nicely and is well made. It is shipped in a garment bag and there were no loose strings.
pannadams1961
Color:
Lavender
Reviewed On:
2015-08-03 11:20:23
This dress fit PERFECTLY! Thank you - it's everything I hoped for Good service, timely and accurate. Couldn't ask for anything more!
natilobos_04
Color:
Burgundy
Reviewed On:
2015-06-17 05:31:06
This dress is very flattering for all body types. I was weary at first because of the sample dress. The color does make a difference on how nice this dress looks. The Burgundy color is great and made the dress look way more elegant than the sample dress color. Shipping was as expected, fast for 5 dresses! All my bridesmaids love it :).
dandtfulton932
Color:
Royal Blue
Reviewed On:
2015-06-13 08:36:54
The came exactly as I had hoped. Sizing was perfect for me and the color and style were true to the advertisement.
aemoss11
Reviewed On:
2015-04-06 12:14:06
The dress looked amazing and it fit really well. My bridesmaid will only have to make a few alterations to it.